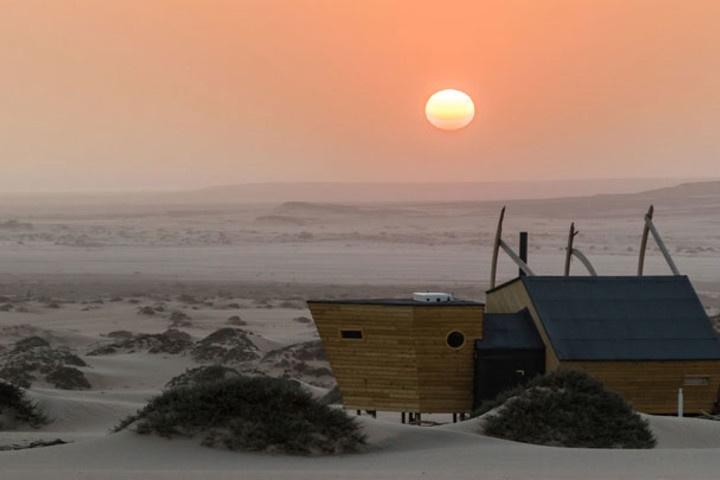 Shipwreck Lodge combines complete isolation with architectural finesse. The Lodge finds itself along the Skeleton Coast, which justifies its name by the numerous ship skeletons found along its coast line. The design of the eight bungalows reflects the numerous stranded wrecks. These are arranged around a centrally situated restaurant including a lounge area.
A variety of activities are being offered within the Skeleton Coast National Park. The compulsory 4x4 dune drives are as much part of it as are the excursions to the shipwrecks along the Atlantic Coast and the drives into the nearby Hoanib River, known for its high population of desert dwelling elephants. Guests preferring less action are welcome to go for long walks along the beach.
How to get to Shipwreck Lodge? Self-driving guests can travel up to Möwe Bay, where they are able to park their vehicles and get a transfer to the lodge 45 km further away. The distance from Swakopmund to Möwe Bay is 432 km, Terrace Bay has a filling station.
Shipwreck Lodge lies within the upper price level. Price: full board inclusive of all activities = N$ 15525 per person / night (high season rates 2020)
More information: http://shipwrecklodge.com.na/
All pictures Copyright Shipwreck Lodge / Natural Selection Namibia