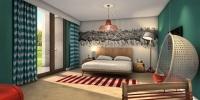 Find out about two new developments in the hotel industry in Swakopmund. The "Delight Hotel", Gondwanas new hotel and "Strand Hotel Swakopmund" at the iconic Swakopmund 'Mole''.
The Delight Swakopmund
Gondwana Collection's new " Delight Hotel" which has opened its doors on 1st Nov 2015, is a fresh breeze amongst the coastal town's captivating contrasts and old traditions. The colorful design and décor of this new establishment is uplifting and inspiring. Comfortable, warm and welcoming , the " Delight" offers 44 light, modern Double rooms and 10 spacious Loft Family rooms. Breakfast-service is available, however, there is no in-house restaurant since Swakopmund town offers a good selection of eating places. The 'Delight Hotel " is located opposite the historic train station and the Swakopmund Hotel & Entertainment Centre (corner of Theo Ben Gurirab Avenue / Nathaniel Maxuilili Street , only 5 minutes walking distance to the City Centre and the beach.
Strand Hotel Swakopmund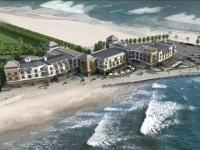 The new 4 star Beach-Front Hotel, opened Oct 2015, is well received by tourists, business travelers and local residents.
Developed by the Namibian Ohlthaver & List Leisure Hotel group, it is located directly on the iconic Swakopmund 'Mole''(Promenade) at the Atlantic Ocean. Most of its 125 rooms and suites offer the uninterrupted sea views; Some of the rooms are court-yard facing garden rooms.
On the back of the property is a small park, through which it is a short five minute walk to the historic centre of this charming town, with all its shops, cafés, restaurants and bars. Its architectural inspiration finds its roots deep in Namibian German colonial history and reflects this in a tasteful contemporary manner. The interiors are residential in nature, charming, warm and comfortable, and as they say in German: "gemütlich" with a genuine "sense-of-place".
The Strand Hotel Swakopmund offers three unique and creative restaurants, the Ócean Cellar, the Brewers & Butchers and the Farmhouse Deli, all creatively different in style and nature. The Brewers Bar and Strand Hotels sea facing terraces are already popular meeting points for visitors and residents of Swakopmnund