Namibia - exotic dreamland in the south west of Africa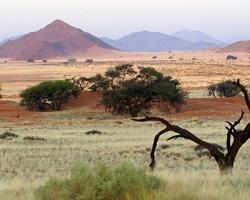 Be inspired by the vastness of the Namib Desert and explore the hospitality of the locals.
Namibia is an exotic dreamland in the south west of the "black continent". Characterised by a mixture of many language groups and sometimes even by German-colonial flair, the country is ideal for nature explorers and active holidays. Namibia fascinates by its unique desert landscapes, diverse wildlife, romantic coasts, deep canyons and rough mountain ranges.
The ancient inhabitants called it "the big emptiness" and the distant, endless horizons of Namibia exert their own magic on the soul and guarantee recreation and adventure.
Namibia is a paradise for photographers and nature lovers. Common experiences, for example the amazing African sunsets, clear unpolluted air, an unforgettable night sky displaying the Southern Cross, leave deep impressions with all visitors and invite to return.
Highlights of Namibia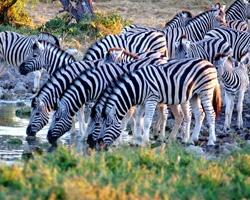 One of the main highlight of any Namibia safari, are the high dunes at Sossusvlei in the Namib, the oldest desert worldwide. The Etosha National Park privides excellent wildlife experiences and pristine nature landscapes can be explored in the north-western Kunene Region.
Thirteen different 'tribes' live peacefully together and lend a cosmopolitan flair to everything. It is a civilised country with a good infrastructure and a diverse flora and fauna. Here you meet some superlatives, from the second largest canyon in the world, to the largest cheetah population worldwide and the impressive, ancient rock engravings at Twyfelfontein (Namibia's only UNESCO world heritage site).
This spacious and sparsely inhabited country is without doubt a fascinating destination, rugged, soulfoul and inspiring. Namibia, land of contrast, will celebrate its 23rd year of independence in 2013.
What makes Namibia a special travel destination?
Wide open spaces and breath-taking landscapes
Fascinating wildlife and birding as well as interesting flora and fauna
Rare geological formations like the Fish River Canyon, the Spitzkoppe or the Petrified Forest
The highest sand dunes worldwide
An interesting and diverse population – 13 different ethnical groups and cultures
Harmonic cohabitation of a diversity of people
Spectacular sun sets and the Milky Way within a glittering night sky.
Good infrastructure
First-class accommodation, with a choice of guest houses, lodges, hotels or guest farms in every price range
Friendly hospitality and good cuisine
Possibility of sitting around the fire under the open sky – a country for recreation as well as adventure
Year-round dry and warm climate with 360 sun days
English and German communication sufficient to get around
German – international cuisine guaranties superb catering
Little traffic makes self-driving easy
No visa needed when entering, just a travel passport (valid for at least 6 months)
Generally the medical care is good,especially in bigger towns