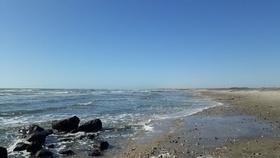 Thank you for organising this great little trip for us. Africar Car Hire was very efficient and it all worked out very well.
We really liked the guesthouses you chose; the "Organic Stay" in Swakopmund has a nice outside area out of the wind. We ate at the Jetty 1925 and also at Ocean Cellar. It was all delicious. We enjoyed coffee and apple strudel at Cafe Anton and visited the museum which was excellent. One morning we experienced a wonderful catamaran trip with Carol Ann of Namibia Dolphin Cruises and we had an excellent guided tour over the dunes and along the coast to Sandwich Harbour.
We drove to Swakopmund on the tarr-road via Karibib and ate a real good lunch at Usakos Bistro. On the return trip we took the gravel road C28 and it was a great drive with a picnic; We actually preferred driving this route as the road was good and there was no traffic. The Olive Grove Guesthouse in Windhoek was also very pleasant
Overall we have really enjoyed our time in Namibia and would love to come back.
Emma & Tom Morton Family - Dec 2022
UK / Kenya