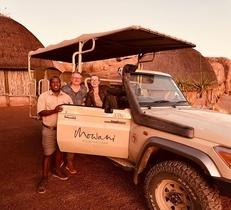 There is only one assessment for the roundtrip in Namibia - absolutely top class!
We drove more than 2200 km with an 4x4 rental car: Windhoek-Etosha-Damaraland-Swakopmund-Sossusvlei-Windhoek.
Next to the breath-taking landscapes and the incredible beautiful encounters with people and animals, we had sensational Lodges in gorgeous locations.
Mowani, Mushara and Little Kulala were absolute top, but Okutala, Otjiwa and the Strandhotel too were highly recommendable establishments.
Sometimes we had guided tours f.ex in Mowani (Desert Elephants) in Otjiwa ( rhinos) and at Little Kulala (Sossusvlei), but we also explored many locations on our own. Everything no problem.
Namibia will stay as permanent feature in our hearts.Thanks again, Lisa
Maren & Thorsten Feb 2023
Germany